Sma Monitoring
SMA SUNNY PORTAL
Whether for residential systems or commercial PV plants, centralized management and system monitoring saves time and money. Plant operators and installers have access to key data at any time. Specialized views take into account the requirements of different types of plants and target groups. The Sunny Portal features almost infinite options for analyzing data and visualizing yields, whether you need a data table or a diagram. The yields of all inverters in a plant are compared automatically, allowing for the detection of even the smallest deviations. The powerful reporting functions also provide regular updates via e-mail to help ensure yields.
User-friendly

Central administration of all customer and plant data

Easy-to-understand reporting

World-wide access via the Internet – via PC or mobile phones

Reliable

Rapid diagnosis via access to measured values and event memory

Informative

Fully automatic yield comparison of devices in a plant

Professional integration in personal website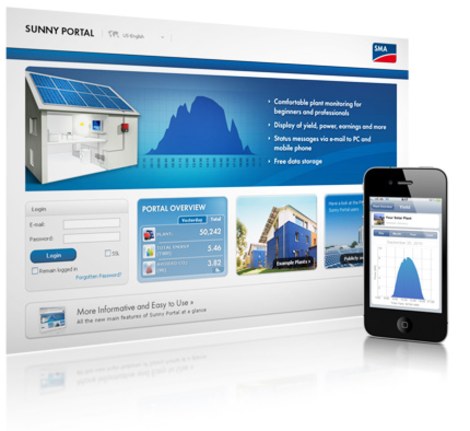 Datasheet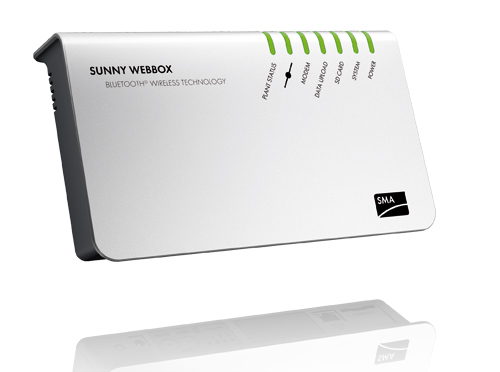 Datasheet
Sunny Webbox With Bluetooth
Monitoring, remote diagnosis, data storage, configuration and visualization from anywhere in the world – the Sunny WebBox.
In the new version, we now have a monitoring solution developed especially for photovoltaic plants up to 100 kW, which will make operation even simpler. This is because the new Sunny WebBox with Bluetooth assures yields quickly and efficiently it communicates without cables, is simple to configure and therefore easy to operate.
The Sunny WebBox with Bluetooth communicates wirelessly via Bluetooth Wireless Technology. And the data logger not only receives measured values and data from solar inverters via radio link. The values from Sunny SensorBox devices can also be transmitted via Bluetooth. This means you can stay updated on the status of your PV plant around the clock.
Combined with the free online platform Sunny Portal, the Sunny WebBox with Bluetooth is the fundamental module for continuous yield monitoring.
Solar Analytics is an Australian software company founded by solar industry veterans, data scientists, developers and passionate PV experts.
We design, develop and supply intelligent solar and energy monitoring solutions.
Our mission is to empower people to navigate the changing energy landscape.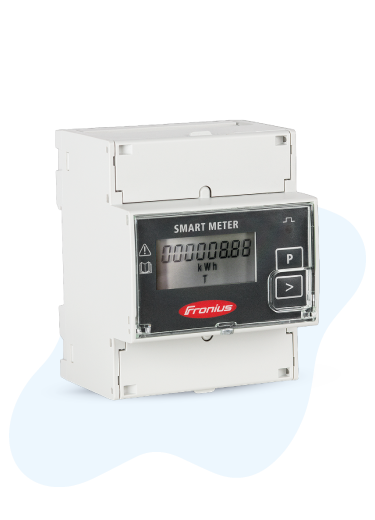 Fronius Smart Meter
The Bidirectional Meter for Recording Power Consumption in the Home
The Fronius Smart Meter is a bidirectional meter that optimises self-consumption and records the household's load curve. Thanks to highly accurate measurements and rapid communication via the Modbus RTU interface, dynamic feed-in control is faster and more accurate when feed-in limits are imposed than with S0 meters.
Together with Fronius Solar.web, the Fronius Smart Meter presents a clear overview of power consumption within the home. In the Fronius Energy Package storage solution, which is based on the Fronius Symo Hybrid, the Fronius Smart Meter provides perfectly coordinated management of the various energy flows and optimises overall energy management.
It is ideally suited for use with the Fronius Symo, Fronius Symo Hybrid, Fronius Galvo, Fronius Primo and Fronius Eco inverters, as well as the Fronius Datamanager 2.0.
Solar Edge Monitoring
The monitoring platform provides enhanced PV performance monitoring and yield assurance through immediate fault detection and alerts at the module level, string level and system level. No hardware or wiring is required to transmit data from the power optimizers to the inverter: the monitoring sensors and transmitters are built into the Solar Edge power optimizer and solar inverter, and measurement data is transmitted over the regular power lines.
Key Benefits
Full visibility of your system's technical and financial performance, including interactive charts and site layout

Visualization of PV production, building consumption, and self-consumption

Data presentation at the module-level, string-level and system level

Comprehensive site-level and fleet-level reporting and analysis tools with an option to schedule automatic reports and export reports

Effective fleet management and improved O&M capabilities :

Automatic alerts on system issues

Remote troubleshooting and access to real-time system data and guided root-cause fault analysis

High resolution data, including historical and aggregated views with comparative analysis diagnostics

Easy access from a computer, smartphone, or tablet

Multiple options for social sharing and public display to drive referrals and generate leads

Free for 25 years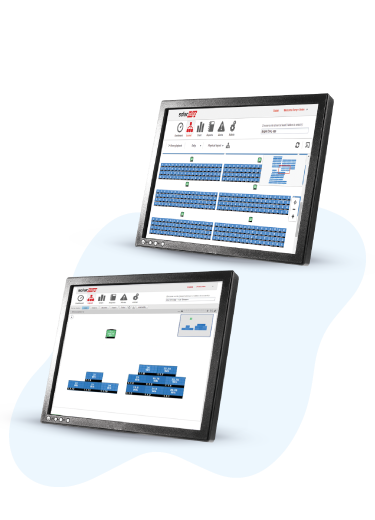 All these features enable integrators, installers, maintenance staff, and system owners to improve the site performance, assure the yield of the system, maximize solar power harvesting and reduce maintenance costs by increasing system up-time and resolving faults more effectively.
The physical layout of the monitoring platform allows you to monitor systems at the module level, and pinpoint issues to the exact location of each module on a virtual site map.
To create and edit your site's physical layout quickly and easily, use the SolarEdge Mapper application or the web-based layout editor.
ABB VSN300 Wifi Logger Card
The VSN300 Wifi Logger Card is an advanced expansion board for ABB's UNO and TRIO string inverters* which provides residential and commercial users with an advanced and cost-effective solution for monitoring and controlling their photovoltaic system.
The VSN300 Wifi Logger Card is easy to install on most existing string inverters* by using the inverter's internal expansion slot.
The built-in IP networking connectivity and innovative Wi-Fi commissioning techniques enable this card to be easily configured for most Wi-Fi networks and access points without installing any additional external devices.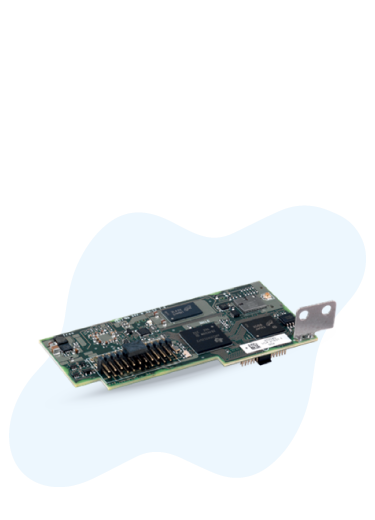 Highlights
The Wi-Fi Certified™ mark assures interoperability with IEEE 802.11b/g/n networks over the 2.4GHz band

Easily installed on new and existing UNO and TRIO string inverters

IEEE 802.11b/g/n (2.4 GHz) support

Local, remote monitoring in one solution

High performance non-volatile data logging

High-speed inverter data exchange through Hyperlink (where available)

Modbus TCP server for SCADA integration

SunSpec certified Modbus mapping for easy integration

Secured and encrypted data transfer to Aurora Vision® Plant Management Platform

VSN700 DATA LOGGER

ABB offers several Data Logger systems for residential, commercial and utility PV systems*.
Data Logger Commercial
This high-performance data management system for commercial PV system operations collects data from up to 10 ABB inverters* and one weather station, logs it on site, and then acts as an internet gateway to send the data in near real time to be stored on ABB's servers where it is accessible via a web browser.
Using the data collected by this data manager and in combination with the browser accessible Plant Viewer, tracking of energy production will both; demonstrate the environmental benefits such as carbon reduction and will make performance ratio degradation more visible, enabling timely cleaning and maintenance.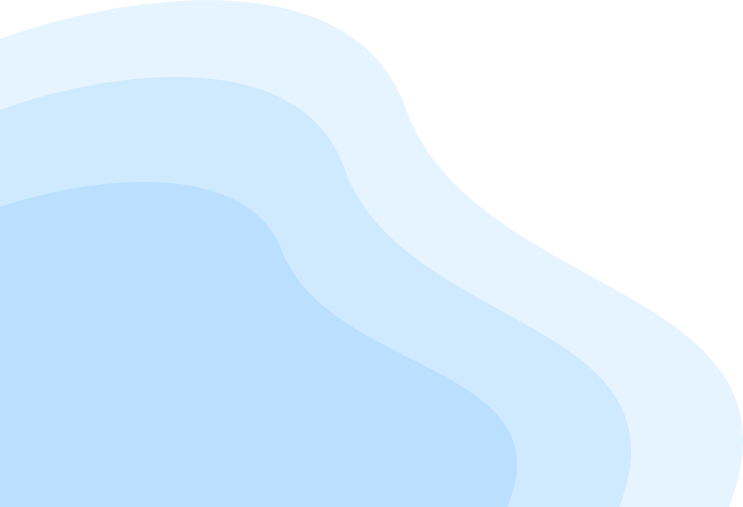 Our Clients
Drawing on over 15 years of unrivalled experience, we have proudly installed solar solutions for an extensive array of commercial customers across Australia. Our expertise transcends industry boundaries, encompassing manufacturing, retail, hospitality, logistics, healthcare, and local government sectors. Our esteemed clients hail from a diverse spectrum, including various levels of government, public institutions, and private enterprises. Your industry, your sector—ASD is your trusted solar partner.

"Its been a while since we got our solar from Australian Solar Design, dealing with them was super easy and we are extremely pleased we went with them,... "


"We were very happy with the installation and the communication (which was above and beyond expectation) between Austarlian Solar Designs and ourselves... "


"From the initial advice and quotation through to installation and commissioning the support was first class. We had no experience in solar but ASD hel... "


"Had a battery/solar install and sadly the battery wasnt discharging for the house.Called up and was connected with Monika who chased up the issue, fou... "


"Getting the solar panels was very simple make a call and fill out the paperwork. The solar panel installed in a day and up and running We were Making ... "


"I have been very impressed liaising with Australian Solar Designs from customer service to best price in town. Reliability is what I was after and thi... "


"I had the solar system installed early 2021. The experience of ASD from quotation to installation is very good. ASD staffs are all very helpful, and i... "


"The installation of our new solar panels was a smooth and no hassles experience that started with Eric the salesman and continued through Monika who w... "


"From the beginning ASD provided me with excellent Key Personnel communications contacts, particularly helpful in guiding me through the Contract and A... "


"Its been a while since we got our solar from Australian Solar Design, dealing with them was super easy and we are extremely pleased we went with them,... "


"We were very happy with the installation and the communication (which was above and beyond expectation) between Austarlian Solar Designs and ourselves... "


"From the initial advice and quotation through to installation and commissioning the support was first class. We had no experience in solar but ASD hel... "

Popular Clients
Brands We Install